On 26 May 2019, Simon Pagenaud became the first French driver to win the famous Indianapolis 500 race in nearly 100 years. The race is part of the IndyCar championship, the US equivalent of Formula One racing.
Pagenaud needed 2 hours and 50 minutes to complete the 500-mile race (about 804 km). It is the fastest race in the world, with the drivers reaching up to 400 km/h while going round 200 times on the oval track of Indianapolis. Many traditions rank around this race: the winner gets to celebrate with milk instead of champagne, there is no podium but he drives into 'Victory Lane' to kiss some bricks, and his face gets engraved onto a unique trophy: The Borg-Warner. It features the silver sterling image of every Indianapolis 500 winner dating back to 1911. It weighs about 70kgs, stands at 1.70m and is valued at US $3.5 million!
Fast forward early August 2019, Paris. Global Expo Services acknowledges receipt of three black boxes at Charles de Gaulle airport and take them to a secret and secured location, known only to a few. The famous Borg-Warner trophy has arrived via airfreight from the USA! It will be moving around Paris and France as the star of Pagenaud's victory celebrations. An interesting week begins…
"It was great news when BorgWarner appointed us to handle all movements of the trophy in France. I follow motorsports a little, so I knew about the trophy and also that it was only the third time that it had been sent outside the United States," says Jérôme Perrin, CEO of Global Expo Services.
Each day, two dedicated Global Expo Services staff made sure the trophy arrived in time at various media appointments, TV studios and sponsor events. As the trophy has to be assembled and dissembled before it can be moved, the staff received special training on how to handle the trophy. Gloves had to be used and all movements were guarded by a specialized security company.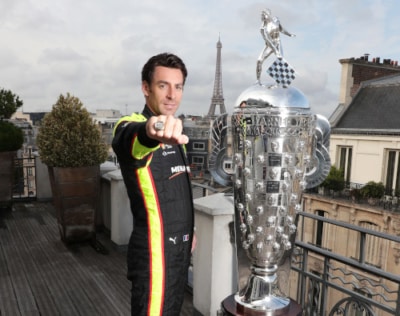 Simon Pagenaud unveils the trophy on a 5 star hotel rooftop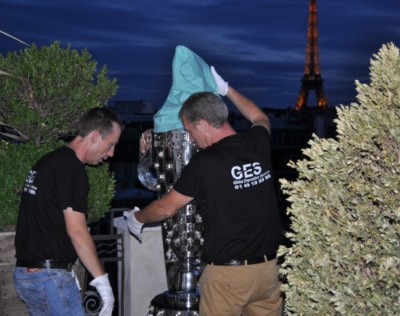 GES crew starts packing up the trophy…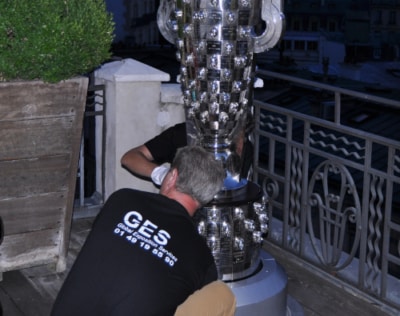 …to get it ready for its new destination
Global Expo Services looked after all road transports in France as well as customs declarations in the USA and France. Shipment to and from the USA was handled in cooperation with US partner Airways Freight.
"It was an exciting week," continues Jérôme. "My staff is experienced and they have worked at many unusual events but this time they also got to see TV studios from the inside, set up the trophy on the terrace of a 5-star hotel in Paris with view of the Eiffel Tower and saw a lot of famous people from the motorsport and media world."
All media and sponsor events were set up and organized by AS Sports Communication, a boutique communication agency based close to Chantilly, France, specialized in motorsport media and public relations. "The trophy went to about three different events each day, including public receptions in Poitiers and Montmorillon, the home region of Simon Pagenaud, about 300 km south of Paris. We normally work at fairs and exhibitions, so to work in the motorsport media world was a new experience for us but we really enjoyed it. The trophy is now back home at the Indianapolis Motor Speedway Museum, but we hope to see it again one day soon, " concludes Jérôme.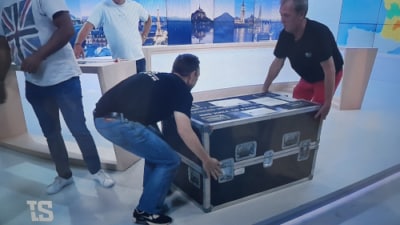 Bringing the trophy to France 3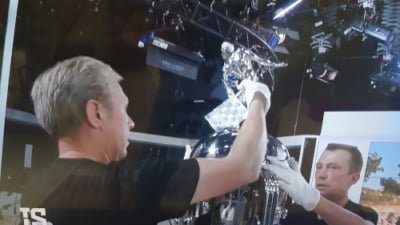 Setting up the trophy for the show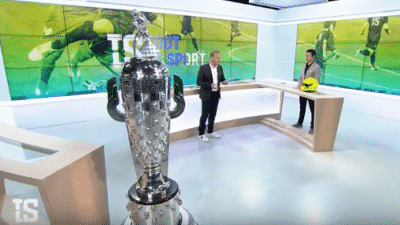 "Tout le sport" is ready to begin with Simon Pagenaud and the trophy
The next Indianapolis 500 race takes place on 24 May 2020. Simon Pagenaud is fiercely determined to defend his title and make sure the Borg-Warner trophy comes to France a second time…