The core business at Global Exposition Services is transporting goods to and from exhibitions in France and all around the world. Very often that is a straightforward operation. For example, we take over when a shipment, coming via one of our agents, arrives in France. We'll look after the customs procedures, make sure the shipment arrives at its final destination and of course that it gets send back to its country of origin.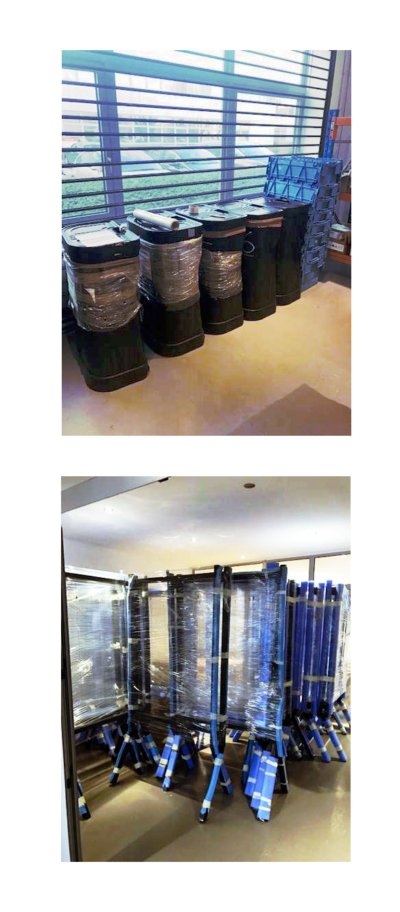 Sometimes though, this straightforward route isn't the most suitable one. Each year, many multinational companies, whose HQ is located outside the European Union, participate in a large number of European exhibitions. The basic equipment for these events will always be the same: a pop-up stand, often of consequential size, brochures, goodies, decorations, etc. When you do, say, 10 events in Europe in the space of a year, some of them even at the same time but in another European country, it makes sense to store this equipment somewhere central instead of sending it back and forth to the United States or Asia for example.
So where exactly does the material go? Jérôme Perrin, CEO of GES explains: "Each year, we receive a large amount of exhibition kits from customers outside the European Union participating in exhibitions in France and other European countries. We stock this material at our platform in Paris and make sure that the transport within Europe from one exhibition site to the next is carried out as required. Thanks to this procedure, the definitive customs declaration for the European Union has only to be done once."
Issues like delays due to custom checks or missing papers can thus easily be avoided. Also, as the ways are shorter, transport is less expensive and of course, quicker. Even if an exhibition takes places outside of the European Union, in Switzerland or Norway, for example, customs and transport are easier to organize and still cheaper, than sending the exhibitions kits each time from destinations outside of Europe.
Europe is an important market for multinational corporations, particularly those working in IT, banking and finance or pharmaceuticals. So 10 exhibitions or more a year aren't unusual. This is where companies like GES really make a difference. Operating from the heart of Europe, from France, a settled part of the European Union and the Schengen States, makes it easy to send non-European exhibitions kits all over Europe, and then return them to their place of origin, when they are no longer needed for the year.
Many of the companies GES work with in such a way are based in Asia, in countries with French roots. As often the case in life, people tend to work with people having the same cultural or linguistic background. Over the last couple of years, GES has noticed an interesting change in habits. Jérôme confirms: "For the last year or so, we have seen an increase in demand for storing exhibition kits at our French platform coming from English-speaking countries."
Whatever the reason for this increase, one thing is sure. With all of GES's staff being at least bilingual with fluent English and a background in international transport, cultural and linguistic borders won't be a problem.